Scope
This article aims to explain the configuration settings of the new Mikrotik XLANS supplied to the customers. The guide will cover the main settings that need to be changed for the device and then further detail for base and client specific configurations.
The article will also cover the backwards compatibility for Mikrotik products with the currently supplied OxTS XLAN.
Initial configuration
The Mikrotik antennas are powered with the use of a POE connector.
The product IP address should be specified on the XLAN, this will be configured in the range of 195.0.0.X. By entering this address into the browser search bar a RouterOS configuration window will open.
The window will ask for a login and password to access the settings on the device, the window should look like the below: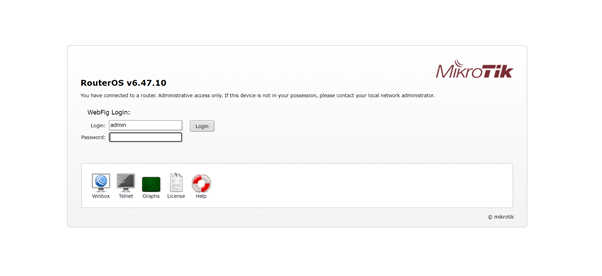 For all Mikrotik XLAN products the login and password combinations are as follows:
Login: oxts
Password: 0xtsXlan
Upon connecting to the device we are able to access the full configuration and all the settings within the Mikrotik XLAN product.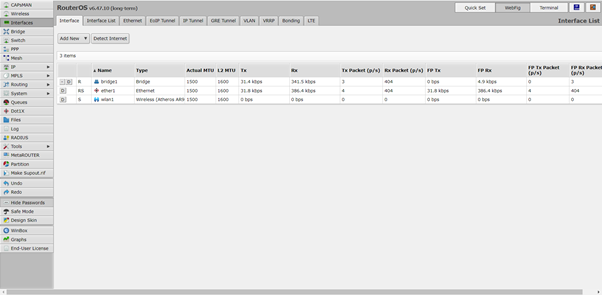 From here it is possible to change the wireless options including how the device will connect to other OxTS XLANS or even frequency band. Within the wireless settings we can also change where the product is used to ensure we are complying with the local frequency laws of the country.
Wireless Base specific settings
The general settings for both base and client devices are the same. The only difference between the units will be the "mode" they are set to. In case of the base this mode setting should be set to "AP bridge"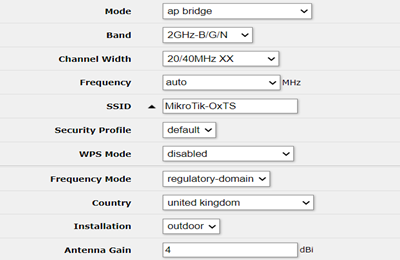 NOTE - the country should reflect where the product is being used if it does not, please contact OxTS support.
NOTE - the SSID on both client and base devices has to match exactly so the RT-XLANS can contact each other.
Wireless Client specific settings
The only difference between the two interacting devices is the "mode" which we configure them in. For the client devices the mode has to be set specifically to "Station bridge" as seen below: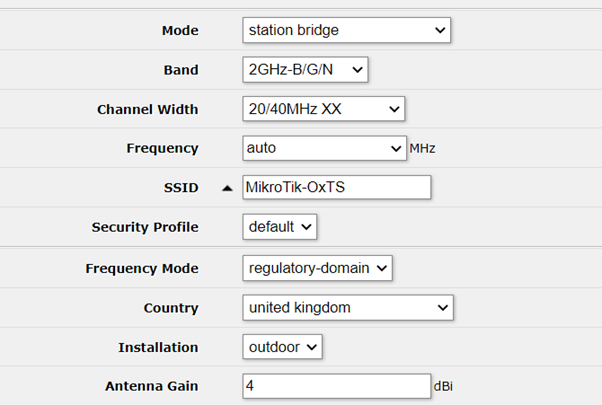 Configuring a bridge
In order for the antenna to communicate wirelessly on the network we have created we need to enable and build a bridge. This feature will combine the WLAN network and the ethernet port.
All of this can be configured in the "ports" settings in the "bridge" options as shown below.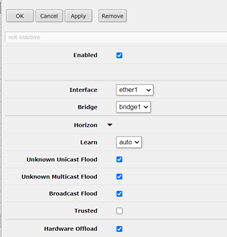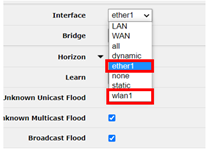 Backwards compatibility
In order to check the backwards compatibility of the Mikrotik products various tests were ran with currently used OxTS XLANS. The test results showed that the Mikrotik devices are only compatible with Bullet M2 models and cannot be used with other products as seen in the table below.
The 5GHz Bullet AC RT XLAN products are not compatible with the Mikrotik XLAN solution and have therefore not been included below.