If M2 RT-XLANs are to be used with RT-XLAN (AC version), specific firmware and configuration requirements must be met for compatibility. RT-XLAN (AC version) is identified by all-blue LEDs
Contents
RT-XLAN compatibility with AC version
RT-XLAN compatibility
Client
M2version
AC version
Base
M2 version
No configuration change needed
Not Supported
AC version
Firmware upgrade and configuration change needed
No configuration change needed
The specific requirements for an M2 RT-XLAN Client to operate with an RT-XLAN (AC version) Base are as follows:
If the RT-XLAN (AC version) Base has the default configuration, no changes to it should be necessary.
Connecting to the web interface
To check or update the settings of the RT-XLAN, a web interface is used. To access this, your PC must have an Ethernet connection to the RT-XLAN. The interface is then accessed by opening a web browser, typing the IP address of the RT-XLAN (see label) in the address bar and pressing Enter.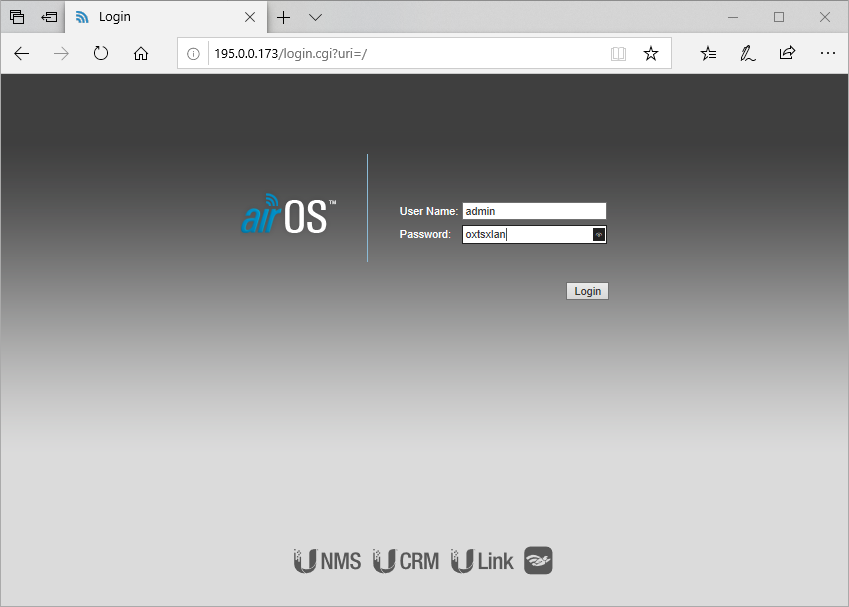 Now you need to enter the user name and password to login.
OxTS default access details
For this version of the RT-XLAN, they are as follows.
IP address: see label on RT-XLAN
Username: admin
Password: oxtsxlan
Checking and updating the firmware
The firmware version is shown on the System tab of the web interface. The version should be 6 or higher.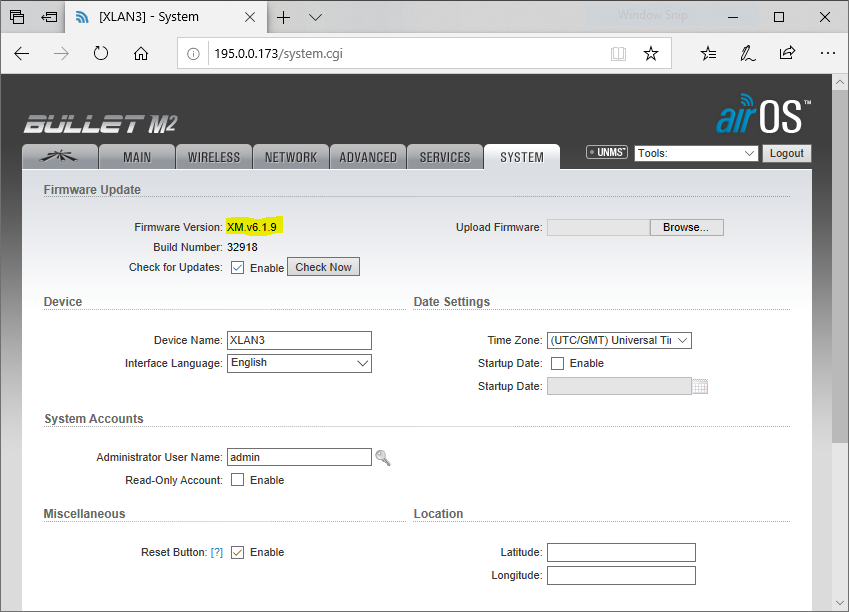 If the firmware version number is lower than 6, it must be updated. There are two possible versions of hardware, so the firmware version corresponding to the hardware version must be used. This is denoted by two letters at the beginning of the firmware version. The latest firmware can be downloaded here.
After downloading the firmware and saving it on your PC, use the Browse button to pick the file and then click the Upload button to copy the firmware to the RT-XLAN.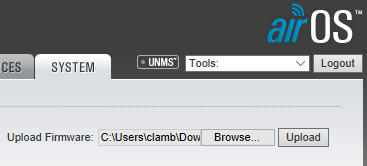 When the file has uploaded, a blue bar appears at the top of the screen. The button to Apply Changes must be pressed to install the firmware.
RT-XLAN configuration changes
The following configuration settings must be checked and changed if necessary.
Wireless tab
Wireless Mode must be set to Station so that it acts as a Client
WDS (Transparent Bridge Mode) must be enabled to permit communication with AC version
SSID must be set to match that of the RT-XLAN (AC version) Base (RT-XLAN by default)
Channel width must match the setting on the RT-XLAN (AC version) Base (20 MHz by default)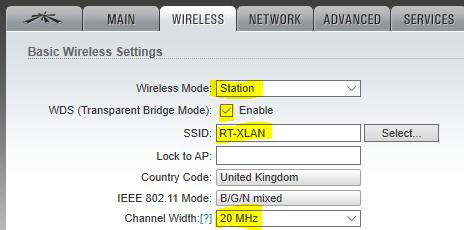 Network tab
Check that a static IP address is set that is unique on the network where it will be used
Check that Network Mode is set to Bridge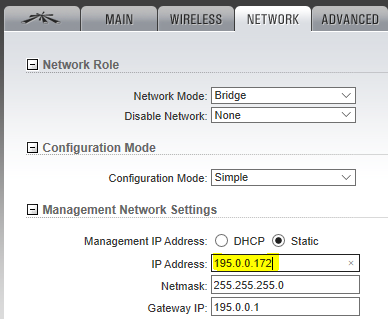 After adjusting settings in the configuration, and clicking the button to make the Change, you must confirm that you want to Apply the changes in the blue bar that appears at the top of the screen.

When these settings have been applied, the M2 RT-XLAN Client will operate with the RT-XLAN (AC version) Base.