A few of our European users of NAVdisplay have reported a bug in NAVdisplay version 180124.14cu, which causes the application not to open correctly, so the window is not visible, but it is listed as a process in Windows Task Manager and using significant processor power and increasing amount of memory.  This is due to a value being written into one of the configuration files with a comma decimal separator, which is not correctly handled by the software.
This will be fixed in the next software release, but until then, if your Windows regional settings have a comma (,) configured as the decimal separator, please implement this temporary fix by following the instructions below.
Ensure that NAVdisplay is closed by checking in Task Manager that there is no App or Process running named NAVdisplay.
Download NAVdisplayFix.zip to your PC.
Unzip it and replace the contents of the subfolders in "C:\Users\<<user>>\AppData\Roaming\OxTS\NAVdisplay" with those from NAVdisplayFix.zip.
Set the properties of the two files in "C:\Users\<<user>>\AppData\Roaming\OxTS\NAVdisplay\default" to Read Only (see screenshot below).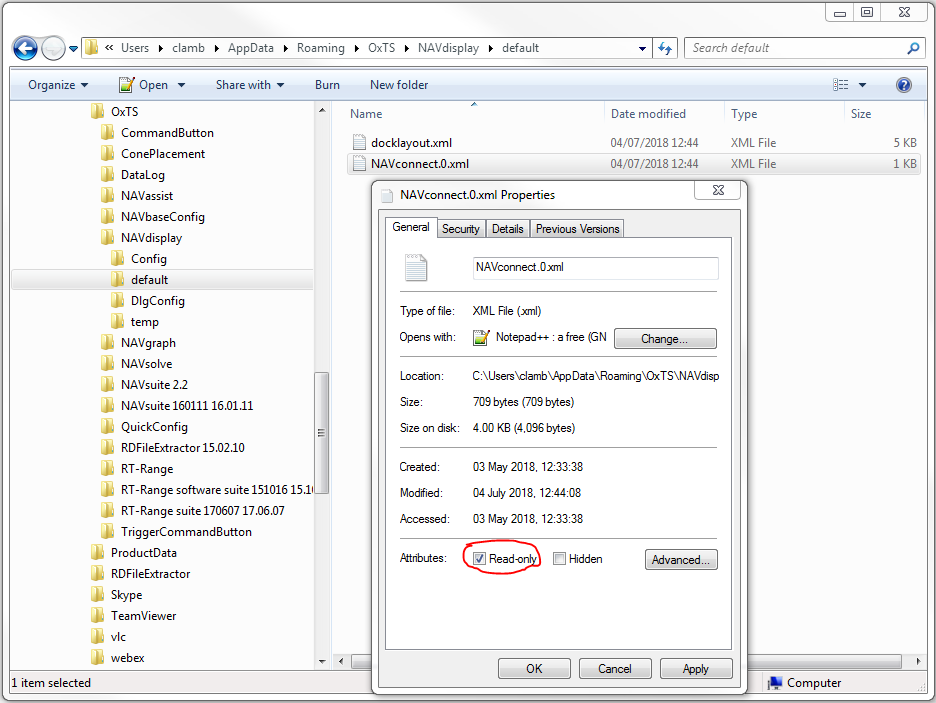 Step 4 should be followed immediately after step 3.  If NAVdisplay was run between these two steps, please repeat step 3 before performing step 4.
After following this process, NAVdisplay should run OK, but you may not be able to open NAVconnect in NAVdisplay.