Problem:
You have attempted to upgrade the firmware and it has gone wrong resulting in an inability to connect to your RT or Inertial+ via Enginuity or FTP.
Your unit has failed and you cannot connect to your RT, Survey+ or Inertial+ via Enginuity or FTP.
In both cases the SDNav and Position LED's will be flashing red or green alternately.
Reason:
This failure is most likely that there was an interruption during the process of installing the firmware, that the firmware was sent in an ASCII format not binary or that there is some other failure that has resulted in the unit falling over to the default settings.  In these cases it is most likely the unit has defaulted to IP 195.0.0.180 from which it can be recovered quite easily with the "rtbns" firmware file.
When in this state the unit will cycle on and off every 2 minutes.  The SDNAV and Position LED's will be flashing alternately.
Instructions for Recovery:
You will need to be ready with the "rtbns" firmware file relevant to the unit you have which if you do not have it is obtainable from your local agent via OxTS Support.
Once you have this, connect your PC to the unit and follow the relevant process below:-
You have 2 minutes during the unit's automatic power cycle to do this small process.
1) Once your PC is connected to the RT type the following command in lower case: 
for Survey+, Inertial+, RT2000, 3000 and 4000 > ftp://user:user@195.0.0.180 or just ftp://195.0.0.180 (Try both)
or for xNAV and RT1003 units ftp://user:user@195.0.0.132 or just ftp://195.0.0.132
2) It should return a window that you can copy the firmware 'rtbns' file into.  You can do this in the Run window, Explorer and Internet Explorer.  Close the window once completed and the file is fully copied 
3) Toggle the unit off / on or wait the 2 minutes for it to cycle itself 
4) It should now have corrected the IP address. 
5) Run RT-Config as per setup or use default settings 
6) Open Enginuity - check the IP address comes up and connect to it. 
7) Check the performance window (At the bottom) for the firmware version
Note:
Unfortunately, some FTP transfer programmes such as Filezilla default to transmitting any file that does not have an extension (like rtbns) as an ASCII text file. The setting "Treat files without extension as ASCII file" circled in red below is the one that you need to change. It should not be checked.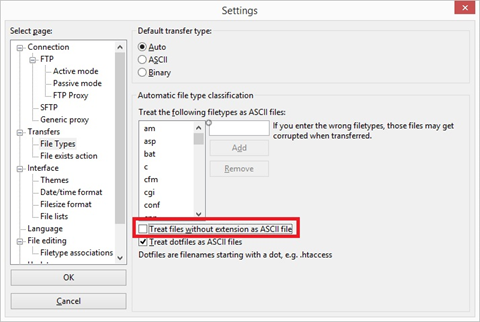 Note: It is essential that the file transfer mode is set to Binary and not Ascii.
A similar process can also be used for RT-Range systems. These will fallback onto IP 195.0.0.18.
For more on this see the RT-Range firmware install guide.