What is the Multiple Sensor Points feature?
The RT-Range S Multiple Sensor Points feature gives ADAS test engineers a method to validate the performance of up to 2  sensors on their test vehicle at one time. Each sensor point replicates the position, field of view angle and range of ADAS sensors, including blind spot sensors, parking sensors and adaptive cruise control radar sensors. Data from RT-Range S Multiple Sensor Points can then be used as a reference for the performance of the actual sensors on the vehicle.
Multiple Sensor Points are different to RT-Range polygon points in that they each output range data at the same time (not just the closest point to the target) and they have a field of view attribute. Users can place Sensor Points within a defined polygon profile, and this is illustrated by the image below.
Multiple Sensor Point data is output by the RT-Range S Hunter in real-time and (including over CAN) as well as in post-processing. It is only the Hunter (VUT) that can be configured with Multiple Sensor Points. Each Sensor Point will output:
Sensor position
Sensor field of view
Sensor maximum range
Sensor minimum range
Range to target
Target visibility %
% of sensor field of view occupied by target
Using the RT-Range PC software, you can configure the individual settings for up to 12 Sensor Points (see image below for illustration).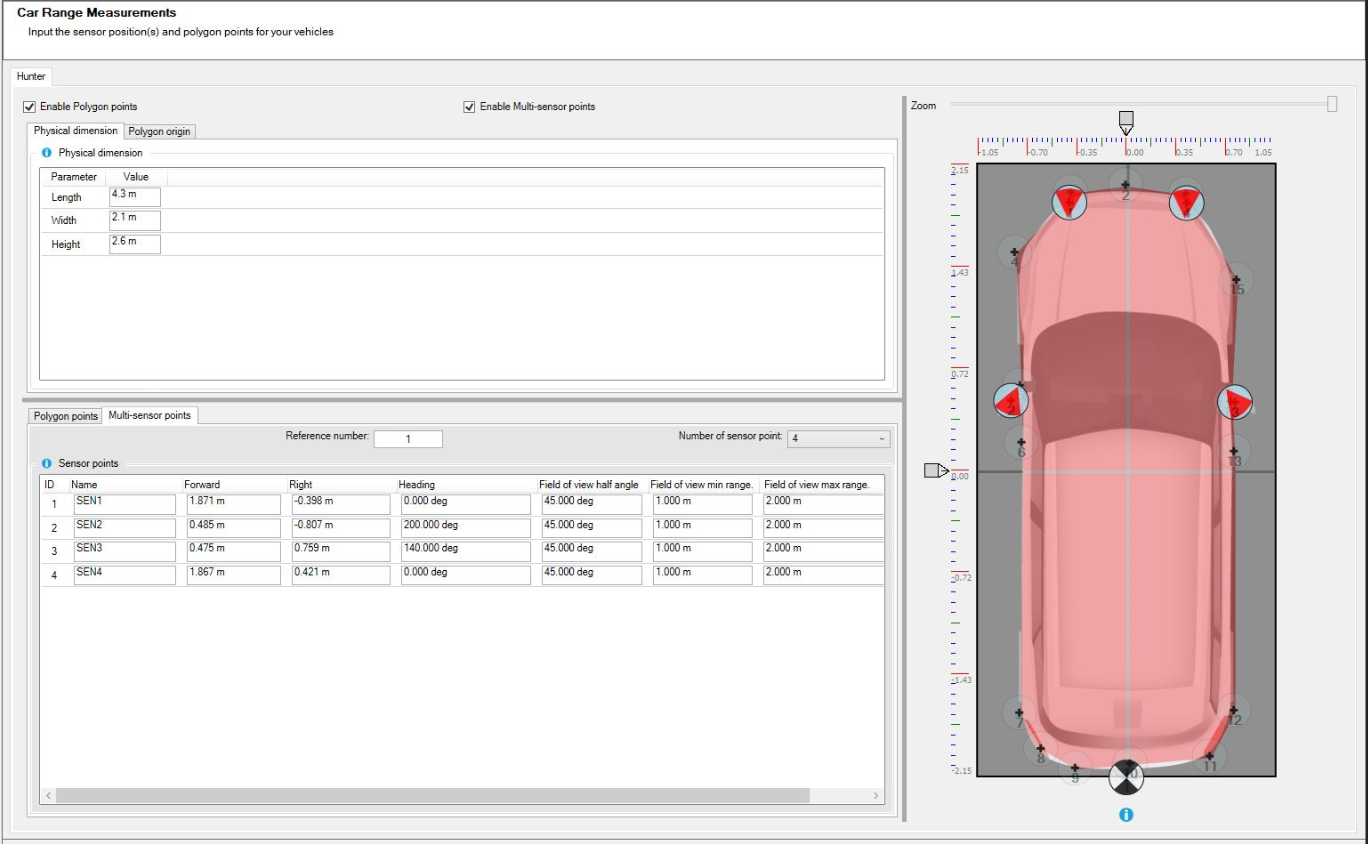 RT-Range S Multiple Sensor Points configuration screen
Users can see the Sensor Points that they have configured in real-time using the RT-Range S birds-eye-view. The display will highlight the field of view of each Sensor Point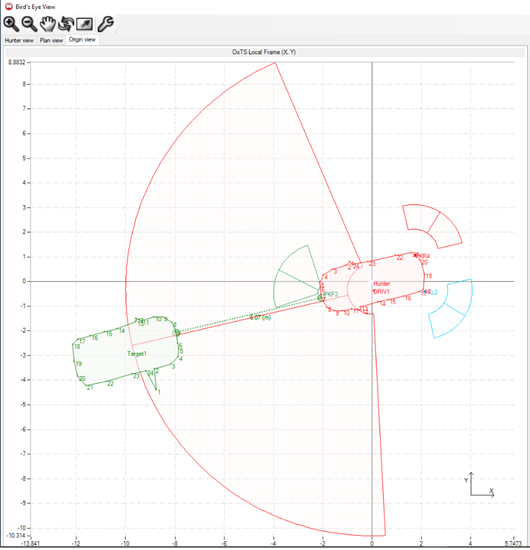 RT-Range S Multiple Sensor Points display shown in Birds-eye-view
How are Multiple Sensor Points Configured?
Use of the Multiple Sensor Points feature is dependant on devices running RT-Range S firmware version 181207 or later.
To configure Multiple Sensor Points:
Select the 'Real-time display' tools from the first screen in the RT-Range S PC software.


Select 'Configure RT-Range' at the top.


Select 'Range Measurements' from the menu.


If you are also using a Polygon for your Hunter vehicle, you can configure this on the same screen. Select 'Enable Polygon points' at the top. Configure the polygon for the vehicle first by initially inputting the Length, Width and Height of the car, then plotting the position of the polygon points using the tools on the right hand side of the screen.


Select 'Enable Multi-sensor points' at the top to begin configuring your Sensor Points - choose how many Sensor Points you want to add, and give the configuration a Reference number (to remind you later if you have multiple configurations).


Each Sensor Point is automatically assigned an ID in the software. Using the tools provided, users can configure the following values for each of the Sensor Points:



Name
Forward position
Position right
Heading (direction sensor is pointing)
Field of view half-angle (is doubled to give full field of view)
Field of view minimum range
Field of view maximum range



          Each Sensor Point can be configured with a different position, field of view and range value.
      7. You can save your configuration so that it can be loaded next time you test.
Where is the Multiple Sensor Point data logged?
Once configured, Multiple Sensor Point data is output via RCOM (Ethernet) or CAN data along with all of the other Range data. You can configure the CAN messages you wish to output using the CAN table edit tool in the Options section (see below for example).

Multiple Sensor Point measurement data is output over individual CAN messages and is configured in the CAN options section of the RT-Range.
How can customers access this feature?
Customers who has an RT-Range S Hunter shipped after 17th December 2018  can use this feature as long as they are using the latest RT-Range S software 181128.
Customers who wish to upgrade their RT Range S Hunter to make use of this feature can do so by purchasing a firmware upgrade from their local OxTS Channel Partner. Email sales@oxts.com for more information and for a quotation.