This is a full guide for using OxTS Georeferencer to produce Pointclouds of your surveys from recording your data to viewing your Pointcloud. Some of the pictures used here may not load properly depending on internet conditions,.
Georeferencer versions:
| | | | |
| --- | --- | --- | --- |
| Georeferencer 1.0 | January 2020 | 20.1.15.34193 | VLP16 only georeferencing and BC |
| Georeferencer 1.2 | November 2020 | 21.0.15.0 | Ouster, Velodyne and Hesai models. LIP BC, error calculation. |
| Georeferencer 1.4 | ~June 2021 (not yet released) | | UI improvements, time cropping, all Hesai models. |
| Georeferencer 1.5 | ~August 2021 (not yet released) | | Livox LiDAR models, HDL32, processing improvements, bug fixes. |
You can view the internal version numbering at the bottom left corner of the OxTS Georeferencer user interface. The latest version is available for download on the support site page.
This article applies for the latest version of Georeferencer which will appear as version 21.0.15.0. You should also have WinPcap installed so that you can read and process PCAP files; you will have this if you have downloaded WireShark or if you select the install option with the Georeferencer installer wizard.
Compatible LiDAR:
Velodyne VLP16 Puck, Puck LITE*, VLP32C (not in dual return), VLP32MR, VLS128 'Alpha Prime' (not in dual return)*.
Ouster OS0, 1, 2 in all laser numbers and all laser distributions for gen 2 models*. These require the newest Ouster firmware. The OS1-64 has been tested by OxTS, other models are in beta. OS1-16.
Hesai 40P. All further Hesai models will be compatible in Georeferencer 1.4 (expected June 2021).
Many new LiDAR integrations are coming soon.
*These models have been included in Georeferencer's coding but not tested by us, we therefore label them as beta and will work with users to test them.
For hardware integrations consult other support guides: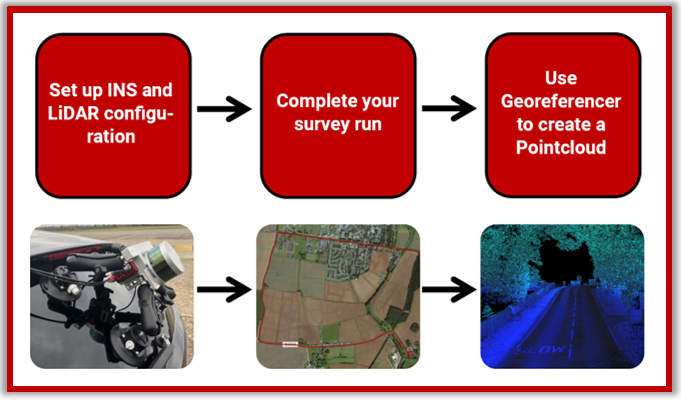 Click the link here to watch a Georeferencer Tutorial video.
Workflow Summary
Set up your INS and LiDAR devices in your vehicle. Connecting them to a power source and to a computer if you are using one and if so make sure your IP configurations are correct. It is good practice to have your folders set up for different surveys and tests beforehand.
Measure precisely the ang

les (yaw, pitch and roll) and distances (x, y and z) between the INS and the LiDAR, using the IMU measurement frame as your origin. Ideally take photos for reference later.

Configure your INS unit. Accurately measure the required inputs and ensure the device is appropriately outputting PPS (or PTP) and NMEA (over serial or ethernet as required) and has local coordinates enabled.

Check your data streams and logging if you are viewing them in real time. It is most helpful to check if possible that the LiDAR is receiving NMEA and PPS (or PTP time-syncing).
Complete your initialisation and warm-up run. To get the best output from your unit you can read here. You can complete your warmup during the boresight procedure.
Complete your boresighting procedure if you are doing one. This can be done in the same or a different file to the survey.
Complete your survey run, check again beforehand that your data is logging. Do another warm-up at the end of the survey if you will use combined processing

; you can turn the LiDAR logging off for this.

FTP to your INS device and retrieve the RD (and LCOM) files from your runs.
Process your raw data file how you want it, with combined processing and RINEX files using NAVsolve to produce your NCOM file. Ensure Local Coordinates are enabled.
Create your LIP and LIR files from your measurements. Use a boresighted LIR file if you made one.
Drag your NCOM, LiDAR, LIP, LIR and VAT files into Georeferencer and check the journey path in the window.
Check in the Hardware tab that your configuration is correct and make appropriate adjustments. Depending on the LiDAR the reality of rotations may appear different than in the tab, check the LiDAR manual to be sure. This is because the LiDAR used in the tab is a Velodyne LiDAR and this differs from others.
Run Georeferencing to produce your Pointcloud.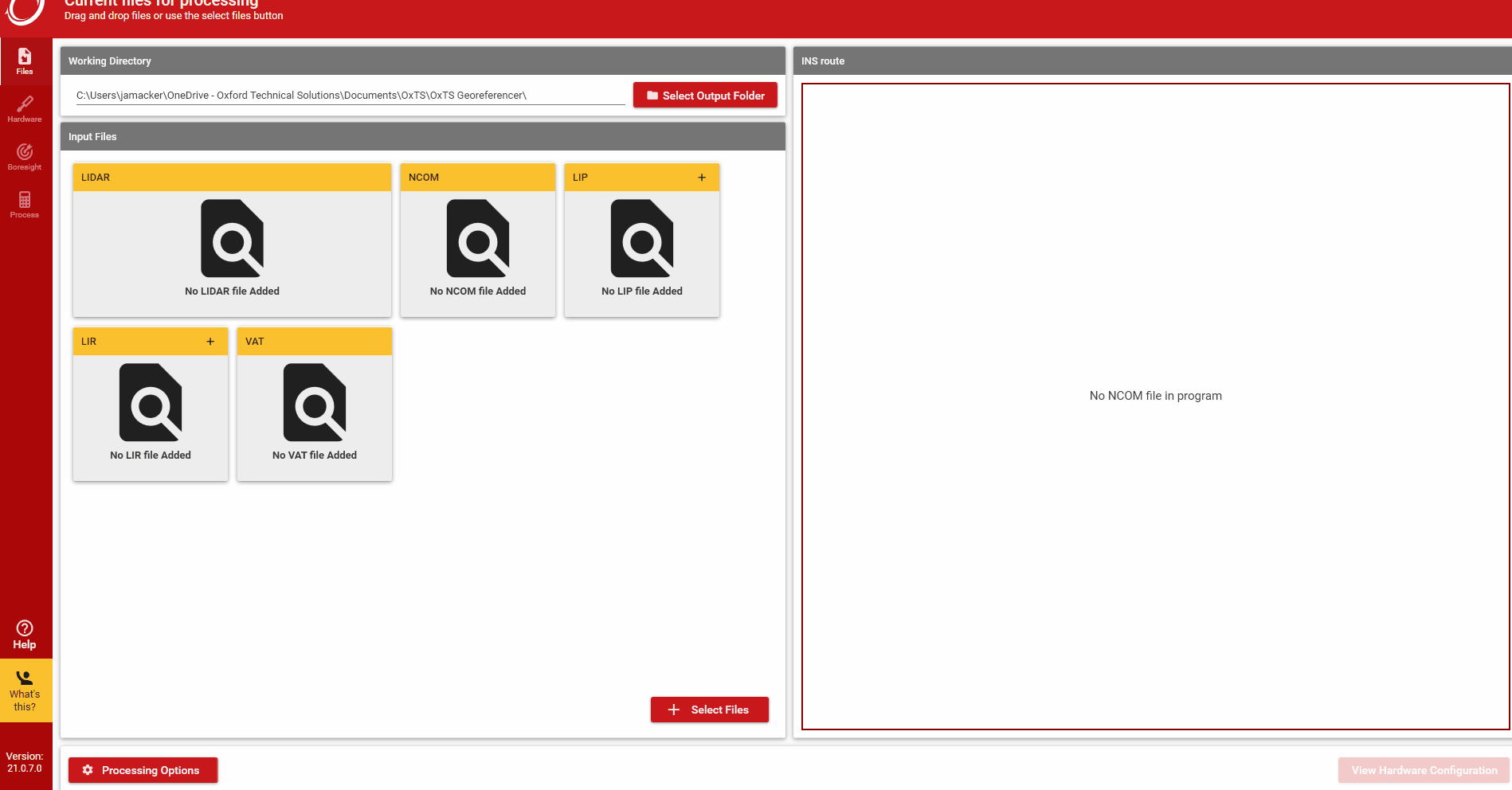 Note: The LiDAR CAD model used here has now been changed to a cube to avoid confusion with other LiDAR manufacturers.
With your 5 compatible files you will be able to click Run Georeferencing. This will create a folder in the directory that the NCOM data is in or where you specify in the Files tab; the folder will contain your Pointcloud, the LIP, LIR and VAT used and 2 processing logs.
Remember that for Ouster LiDAR you need to include the JSON file of Azimuths and Elevations in the same folder as the PCAP and under the same name. For example, for a PCAP named OusterSurvey.pcap include OusterSurvey.json in the same folder.
For Hesai LiDAR, remember to include the calibration file. A spreadsheet of elevations and azimuths for your LiDAR is available either on an included USB stick or retrievable from the unit. Include this in your processing by Clicking on 'Processing Options' and 'Calibration file' and navigating to your file.
Georeferencer can create Pointclouds in LAS, LAZ (compressed) or PCD formats. This is chosen in the Files > Processing Options tab. The default is an LAZ file.
You will now be able to view your cloud in your choice of Pointcloud viewing software (eg CloudCompare, QT reader or others).
If you would like example sets of data please get in touch or download straight from the website. We also appreciate you sharing your data with us.
Figure 14: Example of cloud being viewed in CloudCompare after being processed in OxTS Georeferencer.
Height distribution: There is an issue with the GUI when boresighting some LiDAR. The height distribution graphs show a wide variation in height, something like 10m, despite this not being the case in reality or in the pointcloud when it is processed. Select the targets as normal and reduce the search radius also to only include the targets. We know that the VLP32C, VLP32MR and the Hesai 32XT are affected. We hope this issue will be fixed in Georeferencer 1.5.
40P PTP: An issue is known with the Hesai 40P that has firmware from at latest July 2020. A +3.16 second offset must be applied to the data if using PTP to synchronise your devices. This can be done in real time suing the PTP commands or in Georeferencer with an advanced command of 'lidar_time_offset=315964804000000000'. We assume that this would apply to other Hesai LiDAR with previous firmware, it does not occur for the Hesai XT.
Dual return: VLP32C, VLP32MR and VLS128 dual return data does not process correctly. Single return must be selected for these devices. We hope this issue will be fixed in Georeferencer 1.5.
Combined NCOM: If you are using a version of blended from before November 2020, you will not be able to use combined NCOM data. You can check the version of Blended you are using by looking at the bottom of the window in NAVconfig, a date will be displayed in reverse order; e.g. 201119.14i indicates Blended is from November 19th 2020 and you will be able to use combined processed data. You can check which version of Blended was used in the processing of an NCOM by looking at the process.log file in the processing folder and data can be reprocessed with a newer version of Blended to use in Georeferencer.
VLP32 boresighting: We are aware of an issue with calibrating the setup for the VLP32 where a poor calibration can be obtained. We are currently working on fixing this bug.
Please let us know if you are concerned that you have found an issue or a bug with our software and we will log it and endeavour to fix it.
This section will cover some problems that one can encounter while using Georeferencer and some potential solutions.
Other objects during boresighting: If your LiDAR unit is not calibrated to have retroreflective objects at a registered reflectivity of 100 (out of 255) then the default boresight calibration might not work. If this is the case then you can select 'processing options' before calibrating and change the 'reflectivity threshold' on under 'boresight options' to a higher number e.g. 150. It might also be the case that the LiDAR is picking up part of the vehicle, this can be removed by using a minimum range.

Figure 15: Example clusterplot with the default reflectivity threshold of 100 using a VLP32. Instead of just the targets many objects show up.
Target smearing: If your setup or navigation data is poorly configured then the targets may be too smeared out to correctly boresight. When choosing the locations of the targets on the clusterplot page you must ensure that the blue circle encompasses all of the points that correspond to a target and also that no other retroreflective points are encompassed in the circle. If you can't make this happen you may have to manually measure your setup better until it is good enough to boresight.
Pointcloud 'lite': A common technique for troubleshooting boresighting is to produce a light pointcloud by setting reflectivity to 100 and running georeferencing.
Time overlap: If the navigation (NCOM) and LiDAR (PCAP) files that you have chosen do not overlap in time Georeferencer will not be able to produce a pointcloud. You should doublecheck therefore that the files you are trying to use are the correct ones. If they are then you might have a more fundamental problem on the hardware level. You should receive an error message when you attempt to process that indicates your files were not taken at the same time. You might receive an error looking like "Reached end of LCOM stream at time: 1285502583250000000
FAT:G.1.3: Failed before attempting georeferencing". Georeferencer 1.4 shows a representation of the time overlap.
PCAP recording: When recording your PCAP there are several things to consider. If you have used software such as WireShark then you will need to ensure that you save the data as PCAP (not PCAPNG) and that only the LiDAR data and LiDAR NMEA packets are present. This can be done after recording by using a filter for the LiDAR IP address.
Ensure that if you are using a LiDAR that requires NMEA you record the PCAP and the NCOM starting within the same clock hour as the hour is not outputted in the LiDAR data.
WireShark or similar software is not suitable for recording Ouster data as the packets will not be organised in the correct order that OusterStudio puts them into. Veloview can not be suitable for Velodyne data as it may not record the NMEA data in the PCAP file.
Poor definition in pointcloud: The two main causes of a poor pointcloud will be poor navigation data or poor setup calibration. To view how well your navigation data has performed, open the NCOM file in NAVgraph. Right-click the graph and click 'Configure graph' and then 'Add measurements'. Select 'position accuracy North' and 'heading accuracy' and 'pitch accuracy' for a good sample. Next ensure that different units are set to different axes.

Next you can view the accuracies. Recall that the specification of the xNAV is 2cm position, 0.1° heading accuracy and 0.05° pitch/roll accuracy. In good data you will find the performance exceeds the specification.

If the navigation data is good then the likely problem is the setup calibration. Ensure that you have followed the steps in the boresight calibration guide. You can check the performance of the calibration by using the calibrated LIP and LIR files and producing a pointcloud at a reflectivity of 120 (in the processing options). You should see a pointcloud with two crisp rectangles that represent the targets used and they should not be smeared.


This section will cover some some points that will help you get the maximal clarity in your pointcloud. In general, the performance will depend on three things: the accuracy of the navigation data, the consistency of the navigation data and the calibration of the hardware setup. Of course there will be other errors, for example from the LiDAR accuracy but they cannot be improved. You may be seeing blurring or double vision in your pointcloud which you want to remove, if so, follow the steps below: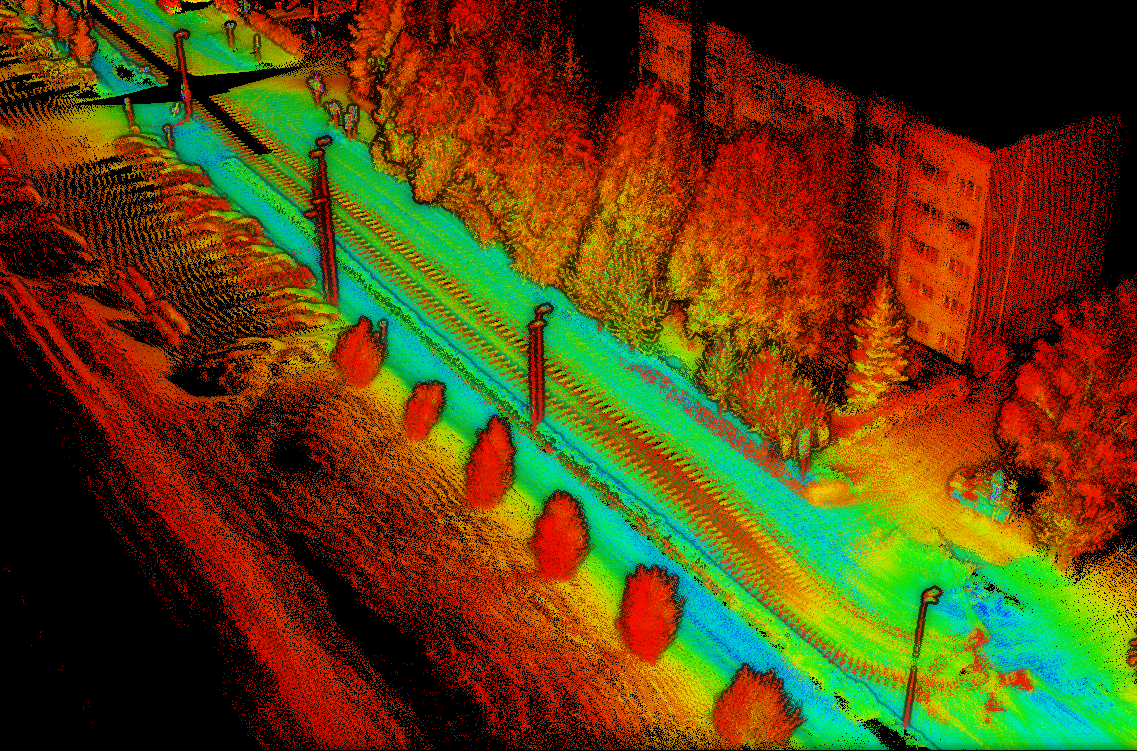 A classic example of double vision where the same object appears in a different location at different times (for example up and then down a road).
Quality of navigation data:
Antennas

: If there is any movement in the antennas whether from vibrations or flexing in their mounting then there can be issues in collecting signals but more importantly error in where the INS thinks the antenna is. Different antennas perform differently in different vibrational environments. Place the antennas as far from each other as possible without compromising on rigidity or accuracy is displacement measurements.

Warmup

: Ensure that your warmup is adequate. For the Survey+ this should be 15 minutes, for the xNAV this should be 5 minutes. However, you can view NAVdisplay in real time to know when you are hitting the specification or exceeding it. For example, keep an eye on heading and pitch accuracy. After a good warmup these should be better than 0.1

°

and 0.05

° respectively on an xNAV. If you are not meeting the specification it might be that your original measurements were not accurate enough. Either correct the measurements or if you cannot, go to NAVconfig>Advanced tools>Accuracies and increase the tolerances on inaccurate measurements. Do the warmup in good GNSS conditions.
Consistency of navigation data: As well as a maximum quality to get out your INS device you need to consider the consistency of that data. For a pointcloud survey you want the highest accuracy for as long as possible. See in the previous section ways to view performance throughout a survey.
Antennas

: The antennas that you use will affect the performance of the navigation data. If you are in poor GNSS conditions or challenging conditions for example a town, forest, city, anywhere where GNSS signals could be blocked or reflected off of objects then the data will be affected by the antenna used. Higher grade antennas will deal with multipath and capture signals better than lower grade antennas.

Rigidity

: It is very important for all components of your hardware setup to not move relative to each other. The INS will use a fixed measurement for the position of itself relative to vehicle axes and antennas. If these are moving even slightly then significant errors could occur. There might be a resonance on your vehicle that causes vibrations
Boresight calibration: You will have to make sure that the angles in your setup are as precise as possible. If there are any vibrations or lack of rigidity between the LiDAR and INS the calibration will only be precise to the extent that extent. Very fine accuracies are required. A 0.1° inaccuracy will translate into 0.1x(2pi/360)xRange error in the position accuracy which is about 10cm error at 15m away which is a lot by pointcloud standards. Therefore, the boresight is crucial and it is crucial that it is done in the best conditions. Run georeferencing at a reflectivity threshold of 130 to view a pointcloud that should contain only the targets.
Rigidity

: Vibrations and any looseness in the connection between INS and LiDAR ought to be kept to absolute minimum.

Displacement

: The further apart the LiDAR and INS are the greater the intrinsic additional position error will be due to an orientation error between the two. Keep the two devices as close together as possible.

Navigation data

: The navigation data ought to be as high spec as possible for the best calibration. Make sure GNSS conditions are perfect (open sky), lever arms are as accurate as possible and a good warmup has been performed.

Boards

: Ensure that the boards are as flat as possible and reflective enough to differentiate them from any points in their vicinity. Also ensure that the boards are rigid and do not move at all during the calibration survey.

VAT

: The VAT file is very important also. When you put in your orientation (yaw, pitch and roll) measurements into NAVconfig the angles will be to about 1 degree of accuracy and the INS will improve this while it is being used. Ensure that you are using the updated VAT file and not the one you first entered. If you do a warmup then choose 'improve configuration' on NAVconfig the updated VAT file will be saved to the device.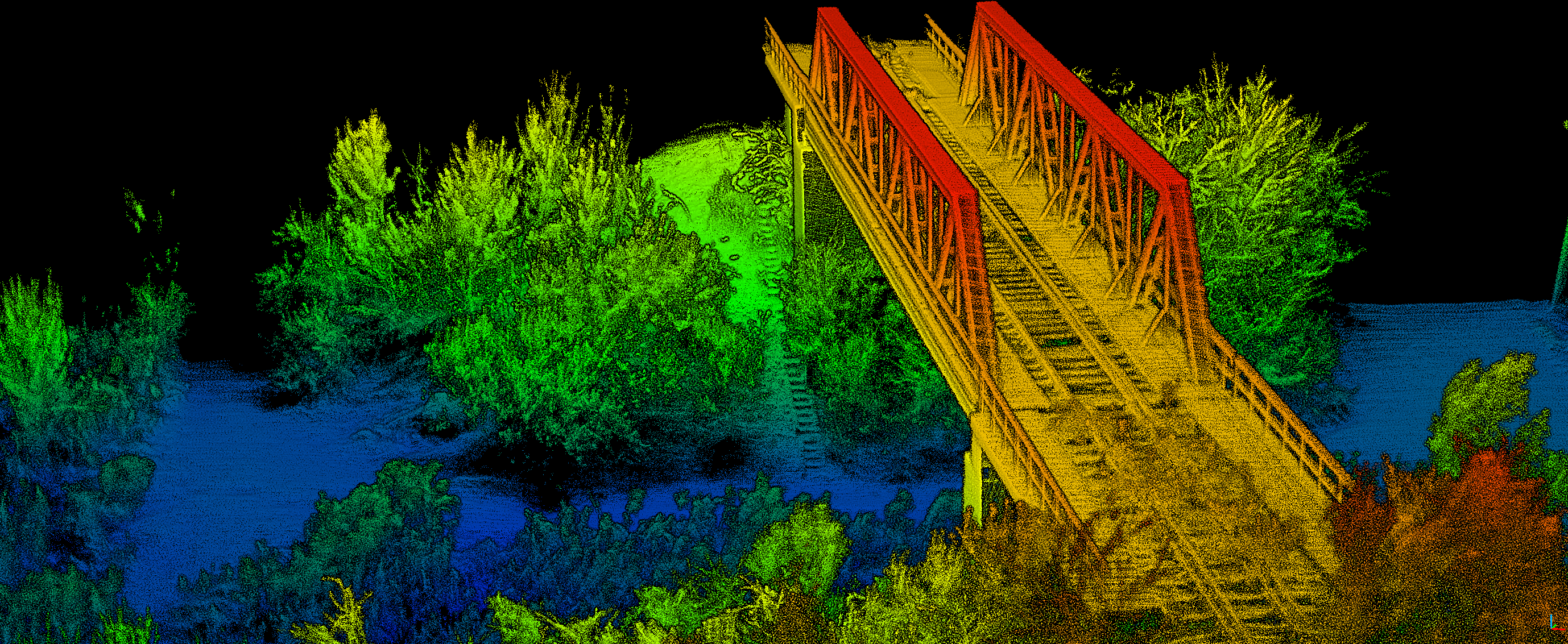 Contact OxTS
Your feedback is very valuable to us, please go here to give us feedback. You can also download files for practicing using Georeferencer for georeferencing and for the boresight calibration.