This is a full guide for using OxTS Georeferencer to produce Pointclouds of your surveys from recording your data to viewing your Pointcloud.
This article applies for the latest version of Georeferencer which will appear as version 21.0.15.0. You should also have WinPcap installed so that you can read and process pcap files; you will have this if you have downloaded WireShark or if you select the install option with the Georeferencer installer wizard.
This version of Georeferencer supports the following LiDAR:
Velodyne VLP16 Puck, Puck LITE*, VLP32C (not in dual return), VLS128 'Alpha Prime' (not in dual return)*.
Ouster OS0, 1, 2 in all laser numbers and all laser distributions for gen 2 models*. These require the newest Ouster firmware, this is currently the beta firmware after version 1.13. The OS1-64 has been tested by OxTS, other models are in beta.
Hesai 40P.
*These models have been included in Georeferencer but not tested by us, we therefore label them as beta and will work with users to test them.
For hardware integrations consult other support guides: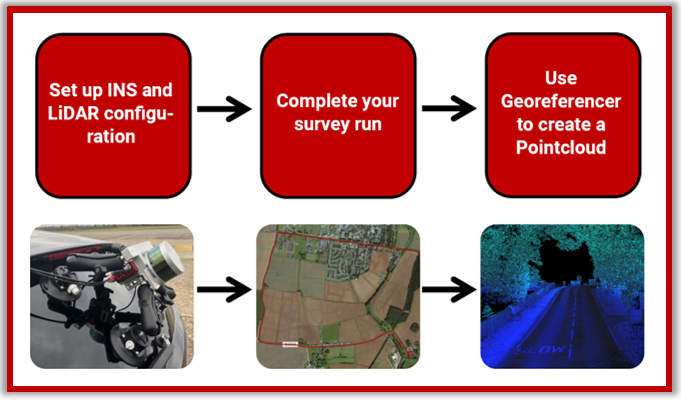 Click the link here to watch a Georeferencer Tutorial video.
Workflow Summary
Set up your INS and LiDAR devices in your vehicle. Connecting them to a power source and to a computer if you are using one and if so make sure your IP configurations are correct. It is good practice to have your folders set up for different surveys and tests beforehand.
Measure precisely the ang

les (yaw, pitch and roll) and distances (x, y and z) between the INS and the LiDAR, using the IMU measurement frame as your origin. Ideally take photos for reference later.

Configure your INS unit. Accurately measure the required inputs and ensure the device is appropriately outputting PPS (or PTP) and NMEA (over serial or ethernet as required) and has local coordinates enabled.

Check your data streams and logging if you are viewing them in real time. It is most helpful to check if possible that the LiDAR is receiving NMEA and PPS (or PTP time-syncing).
Complete your initialisation and warm-up run. To get the best output from your unit you can read here. You can complete your warmup during the boresight procedure.
Complete your boresighting procedure if you are doing one. This can be done in the same or a different file to the survey.
Complete your survey run, check again beforehand that your data is logging. Do another warm-up at the end of the survey if you will use combined processing

; you can turn the LiDAR logging off for this.

FTP to your INS device and retrieve the RD (and LCOM) files from your runs.
Process your raw data file how you want it, with combined processing and RINEX files using NAVsolve to produce your NCOM file. Ensure Local Coordinates are enabled.
Create your LIP and LIR files from your measurements. Use a boresighted LIR file if you made one.
Drag your NCOM, LiDAR, LIP, LIR and VAT files into Georeferencer and check the journey path in the window.
Check in the Hardware tab that your configuration is correct and make appropriate adjustments. Depending on the LiDAR the reality of rotations may appear different than in the tab, check the LiDAR manual to be sure. This is because the LiDAR used in the tab is a Velodyne LiDAR and this differs from others.
Run Georeferencing to produce your Pointcloud.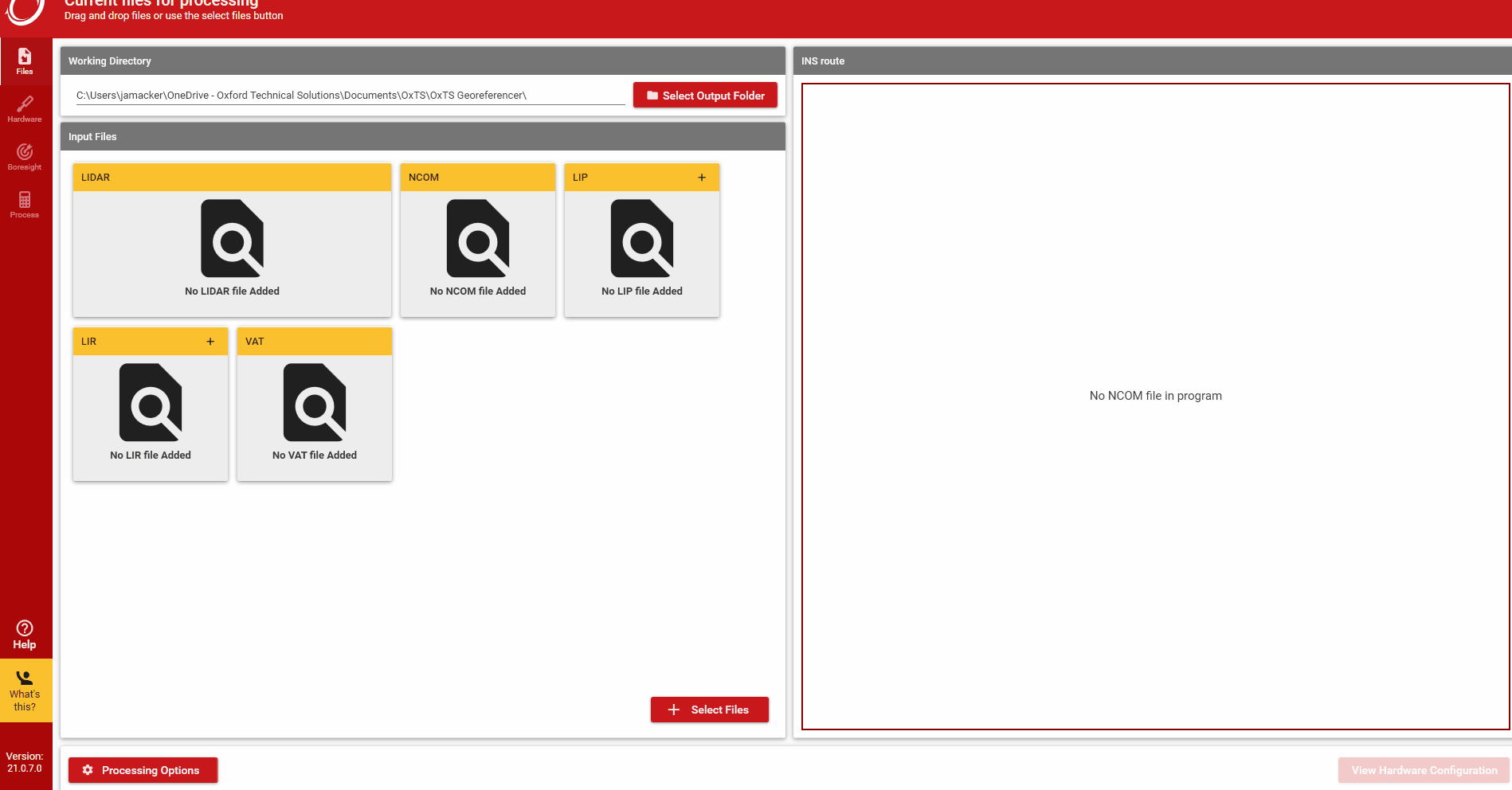 Note: The LiDAR CAD model used here has now been changed to a cube to avoid confusion with other LiDAR manufacturers.
With your 5 compatible files you will be able to click Run Georeferencing. This will create a folder in the directory that the NCOM data is in or where you specify in the Files tab; the folder will contain your Pointcloud, the LIP, LIR and VAT used and 2 processing logs.
Georeferencer can create Pointclouds in LAS, LAZ (compressed) or PCD formats. This is chosen in the Files > Processing Options tab. The default is an LAZ file.
You will now be able to view your cloud in your choice of Pointcloud viewing software (eg CloudCompare, QT reader or others).
If you would like example sets of data please get in touch or download straight from the website. We also appreciate you sharing your data with us.
Figure 14: Example of cloud being viewed in CloudCompare after being processed in OxTS Georeferencer.
This section will cover some problems that one can encounter while using Georeferencer and some potential solutions.
Other objects during boresighting: If your LiDAR unit is not calibrated to have retroreflective objects at a registered reflectivity of 100 (out of 255) then the default boresight calibration might not work. If this is the case then you can select 'processing options' before calibrating and change the 'reflectivity threshold' on under 'boresight options' to a higher number e.g. 150.

Figure 15: Example clusterplot with the default reflectivity threshold of 100 using a VLP32. Instead of just the targets many objects show up.
Target smearing: If your setup or navigation data is poorly configured then the targets may be too smeared out to correctly boresight. When choosing the locations of the targets on the clusterplot page you must ensure that the blue circle encompasses all of the points that correspond to a target and also that no other retroreflective points are encompassed in the circle. If you can't make this happen you may have to manually measure your setup better until it is good enough to boresight.
Pointcloud 'lite': A common technique for troubleshooting boresighting is to produce a light pointcloud by setting reflectivity to 100 and running georeferencing.
Time overlap: If the navigation (NCOM) and LiDAR (PCAP) files that you have chosen do not overlap in time Georeferencer will not be able to produce a pointcloud. You should doublecheck therefore that the files you are trying to use are the correct ones. If they are then you might have a more fundamental problem on the hardware level. You should receive an error message when you attempt to process that indicates your files were not taken at the same time. You might receive an error looking like "Reached end of LCOM stream at time: 1285502583250000000
FAT:G.1.3: Failed before attempting georeferencing".
Contact OxTS